Speck Presidio Show Clear Shock Absorbing Qi Enabled Case for iPhone 8/7
Be the first to review this product
Compatible Device:

For iPhone 6, For iPhone 7, For iPhone 8

Compatible Brand:

For Apple

Material:

Rigid Plastic

Model:
SHIPS WITHIN 24 HOURS MON-FRI
Product Description
SHIPS WITHIN 24 HOURS MON-FRI
Product Description
With 10-foot drop tested protection and a clear design that shows off the beauty of your iPhone, Presidio SHOW offers the best of both worlds. This clear iPhone case features the IMPACTIUM Shock Barrier, Speck's innovative new shock-suppression technology that protects your device without adding unnecessary bulk. IMPACTIUM is a dynamic shock-absorbing material that absorbs 52% more shock from impact than traditional TPE rubber. This material is formed into ridges on the inside perimeter of the case that compress on impact to absorb and disperse force before it reaches the device. The case's clear hard exterior also works to disperse shock away from your phone. Presidio SHOW is drop tested from 10 feet multiple times by a third-party laboratory to test its superior protection from an extreme height, so you can be confident it will hold up to everyday drops. Presidio SHOW has a clear design that shows off your phone, while the opaque IMPACTIUM Shock Barrier band perfectly matches your iPhone's design.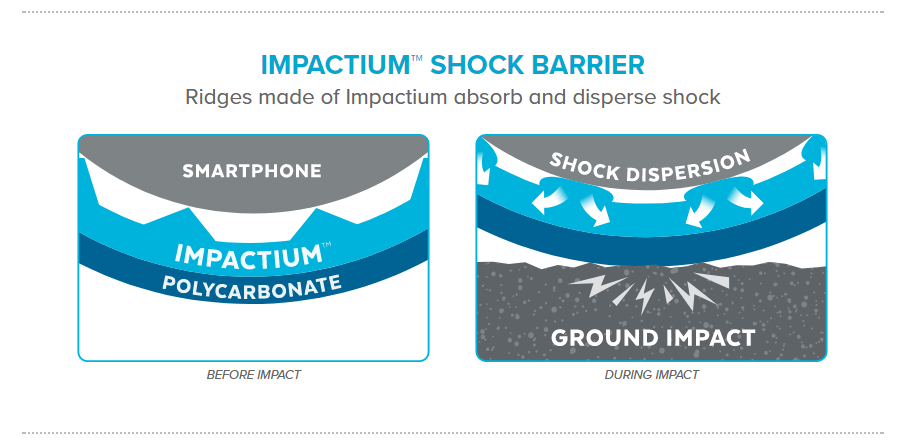 Feature Overview:
Slimmest case yet. We've optimized the design to create the slimmest case Speck has ever made, with a dual-layer perimeter for added protection.

10-Foot Drop Tested. To ensure that Presidio SHOW offers the ultimate protection for your iPhone 7 (also fits iPhone 8), it has been dropped from a height of 10 feet multiple times by third-party laboratories.

IMPACTIUM Shock Barrier. Ridges of IMPACTIUM, Speck's dynamic shock-absorbing material, on the inside perimeter compress on impact to absorb and disperse shock.

Patented raised-bezel screen protection. Raised bezel guards screen from direct drops onto phone face and prevents damage when lying flat.

Scratch-resistant. Special clear coating on the exterior of the case resists scratches.
Proline Fix Your Cellular Solution Outlet 
Feature Overview:
10-Foot Drop Tested., Drop Tested by Third Party Laboratories, IMPACTIUM Shock Barrier, Patented raised bezel screen protection, Presidio cases work with the QI wireless charging, Responsive Button Protection, Scratch Resistant, Slim case slides easily in and out of pockets, Special clear coating on the exterior, Specks slimmest and most protective case, Two Layers of Protection\, Single Piece design